The Fan Circle Supports New Fan Design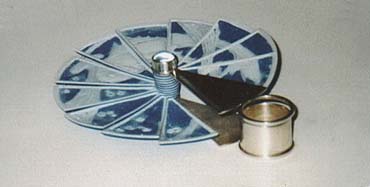 One of the purposes of the FCI is to encourage interest in and knowledge of the fan. Though to many of us this would mean the history of fans, and of collecting and researching old fans, the FCI is also keen to sponsor interest in young people which may include modern design of fans.
The FCI sponsored a competition in conjunction with the Glasgow School of Art to coincide with our 2002 AGM in that city. Students from both the Department of Silversmithing and Jewellery and the Department of Textiles took part in this competition, the work from which was exhibited between 18-25 May 2002. The main criteria was that the resulting object should be utilisable as a functional fan.
There was a large and high quality entry and the FCI awarded prizes to the winners. First prizes in the Silversmithing and Jewellery class were awarded to Julie Harvey for a cockade paper fan fitting into a silver holder on a necklace and to Al Morita for a blue and white cockade fan carved in cameo fashion. In the Textiles class, first prize was won by Ranli Weerasinghe for a rigid fan inspired by a dragonfly.
The FCI is always keen to hear from art and design courses who are interested in the fashion of the fan, and would be pleased to consider submissions for sponsorship of exhibitions. Note that these would normally be held in conjunction with our AGM.
2010 Fan Design Competition
The Fan Circle ran a fan design and making competition in association with our 2010 AGM in Leeds. We worked with 16-18 year old students at the Shipley College Art and Design department. Seventeen students submitted the fans they had made, some making several designs. The fans had to be made out of recycled objects.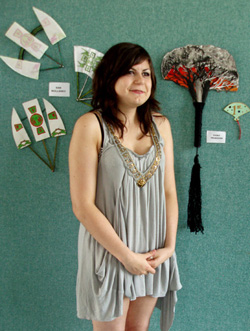 First prize winner was Vicky Peckover (see left) with a large striking fixed fan in the shape of a tree at sunset .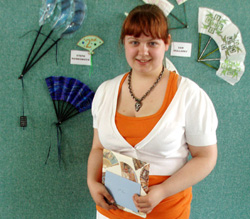 Second prize went to Steph Hawkswoth (see right), both pictured here with their creations.