Join the FCI to benefit from:
The Fan Circle Bulletin, Fans, which is published twice a year.
This contains well-researched articles on a wide range of topics such as the care and conservation of fans; the fan's place in social history; reports on exhibitions; reviews of relevant books; and prices realised at auction sales as well as news and views on topical fan subjects.
Members also receive and can take advantage of:
Occasional newsletters, which give information about forthcoming events;
Meetings and events. This programme is very varied, including viewing private collections, lectures, demonstrations of fan making or repairing, and assisting museums in dating and identifying fans in their collections.
Fan Repair Workshops.
Occasionally we run Fan Repair Workshops held in the U.K., sometimes for members only and some where the public can attend. We ran a very successful course as part of the Marlborough School summer adult education programme in 2009;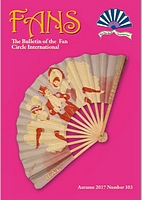 **NEW** Members can now benefit from a major project we have recently undertaken to digitise all Fan Circle Newsletters and Bulletins since inception in 1975. These pdf documents together with photographs, are now available to members ONLY in our special Members' Area. When you join FCI you get a unique login so you can access these for research purposes and information.
Annual General Meeting.
Far from being a boring occasion, the AGM comprises a programme of lectures, visits and discussions, complemented by the social activities including the annual dinner at which, of course, ladies wear their fans! The AGM is always held over a long weekend at a different venue each year. Annecy/Geneva, Norwich, Brighton, Manchester, Glasgow, Haarlem and Dieppe have all hosted this events in recent years.