It is likely that most people who wish to start collecting fans will buy at the cheaper end of the market until their knowledge and inclination grows. There are many different types and ages of fans which command very different prices from a few pounds upwards. It is a good idea to purchase a general book on fans and their history to keep as a reference.
Modern fans made of wood, paper, plastic, fabric etc. can usually be bought in tourist areas generally in countries where fans are still used. They are mainly mass produced with printed designs on the leaf although it is possible to find good hand painted fans generally at a higher price.
Modern Chinese fans can often be bought in appropriate gift shops in many large cities. Sometimes fans are made to celebrate local festivals or events so always keep your eyes open particularly in gift shops and craft fairs.
Antique fans are available from specialist shops and also from time to time in general antique shops, antique centres and fairs. Prices will vary considerably depending on age, rarity, condition, probity, fabrics used and quality of workmanship.
The fan auctions, which are held at certain auction houses, give another opportunity to buy and also give valuable information on fans and prices. It is best to attend the auction preview first making careful notes on your catalogue, then attend the auction and note the selling prices as it will help you assess what a reasonable price is and give you more confidence to bid if you are unused to buying at auction. Remember to add the required percentage to the hammer price for Buyer's Premium and VAT on the premium to calculate the full price of any fan or group of fans sold as one lot.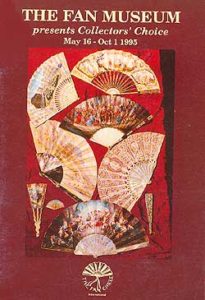 A visit to the Fan Museum at Greenwich is interesting and informative as are any other exhibitions mounted by museums. Being able to talk with other fan collectors is another source of knowledge and often friendship. Fans are not common items so it can take a long time to build a collection but the hunt is part of the fun.
Fans are also sometimes available on the Internet. Try the auction sites and if using a search engine, specify "hand fans", "ladies' fans" "folding fans" etc. as "fan" on its own is too general.
Many collectors have a general collection of fans throughout the ages but some collectors prefer to narrow their field of collection and collect fans from only one country or area, one period of time or one subject matter illustrated on the leaf. Whatever you decide remember it is your collection and buy only fans which you like and interest you.
Find out about conservation
Fan Glossary
Fan Bibliography